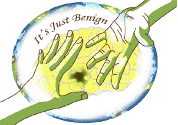 It's Just Benign: Connecting Benign Brain Tumor Survivors Everywhere
Contact Us
I started this website because I am so passionate that a voice be created for those diagnosed with BENIGN brain tumors. I didn't really know what to expect when I started this site and I wasn't sure that a place for this was needed. I now know differently. It's amazing to watch each member connect to each other whether you're writing about your side-effects (bad balance, medications, and doctor issues) or your anger that there is no understanding about what we go through. Please contact me with any questions or concerns that you may have.

Beth F. Rosenthal
www.ItsJustBenign.org
Founder & Survivor

If you have any comments, suggestions, questions or concerns you can email me at:
Beth F. Rosenthal

Thanks for your support!

ShareTwitterFacebook
Welcome to
It's Just Benign
Sign Up
or Sign In